Feathers are h-u-g-e for fall, you can see them embellishing everything from dresses to shoes, adding a light, airy and whimsical touch to dark heavy fall items. They are decadent and girly and I highly reccommend adding something feathery to your look this season.
If the thought of wearing clothes with feathers brings back memories of Big Bird, I suggest just adding a bit of feathers in the form of these adorable headbands. Headbands have made a resurgence thanks to the gals on Gossip Girl. Headbands instantly add polish to your look and a feathered headband adds polish and style. Check out these great websites to find cute feather headbands www.alexandani.com, www.plumashop.com, www.saksfifthavenue.com and www.urbanoutfitters.com.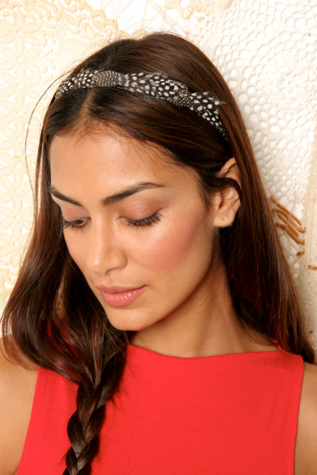 Since I am a such a shoe addict, I found a gorgeous pair of flats embellished with feathers, available at www.jcrew.com.