Alright all you professional shoppers the holiday shopping season is upon us! I am already cultivating my shopping list and cross referencing it with who I need to buy presents for this year so I can get out there and do what I do best, shop! As I find fun, unique items perfect for gift giving I will pass them on to you and please share any cool finds you have found by leaving a comment.
My first gift giving idea is perfect for the women on your list, from friends, to female co-workers, to mothers and mother-in-laws, grandmas, aunts, sisters and teachers. As you know scarves are very popular and can be worn with a coat to keep you warm or as an accessory worn all day for style. There are some beautiful scarves out there in a wide range of price points and you don't have to worry about fit.
Here are a few of my faves:
These two are available at White House Black Market.
This ruffle scarf is soft and can be dressy or casual.
This deep cranberry scarf is super soft and cozy and embellished with crystals for a little sparkle. It is also available in white and black.
Leave it to Anthropologie to have a great selection of funky, bohemian scarves that will bring a smile to anyone who receives one.
This one reminds me of snow.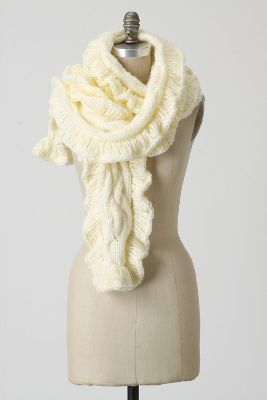 This vibrant silk scarf is available in blue and red.