There are certain things that you know as soon as you try them on, they will instantly become one of your absolute favorite items of clothing to wear. When this fashion kismet happens I am usually inclined to buy that item in bulk, one in every color and even multiples of the same color, knowing I will want to wear them again and again. I recently stumbled onto two great buy in bulk items that I know will serve you, my fair reader, well in all your fashion adventures.
The first buy in bulk item comes from Anthropologie and can quite simply be described as divine. As soon as I pulled this fluid jersey 3/4 sleeve top over my head and felt the fabric softly brush across my skin, I knew it would be coming home with me. It's fabric is like butter, so soft and comfy and it's loose fit is at once flattering and comfortable. The pleating at the neck and sleeves add visual interest but is simple enough to wear with anything and everything, from skinny jeans to pencil skirts to comfy yoga pants. Simply put, a flattering, wear with anything, awesome shirt. Available in three colors online at www.anthropologie.com. PS Buy down a size from what you normally wear to keep it from being too loose.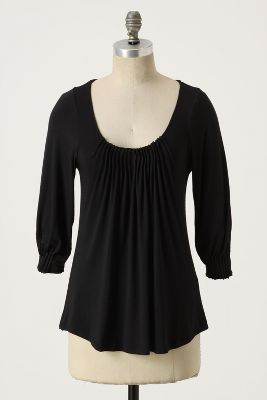 The second buy in bulk item is more of an everyday layering piece, that is a true necessity to have in your bag of fashion tricks. The White House Black Market Ultra Soft Seamless cami is the perfect layering piece to wear under jackets, sweaters, button down tops or low cut shirts. It's stretchy seamless fabric shapes and smoothes without being too tight and the wide straps fit and stay put. Since White House Black Market knows you want one in each color, they are buy one get one 50% off. Available in black and white at www.whitehouseblackmarket.com.