My mailbox is filling up fast and furious with holiday catalogs and I have a duty to flip through each one. It reminds me of when I was a kid and my brother and I would fight over the huge Sears toy catalog and return it to my mom with dozens of dog-eared pages in hopes she would pass the hint on to Santa. Now, I still dog-ear pages but instead pass them on to my husband in hopes of helping him with his holiday shopping. One such catalog that is is now worse for the wear is the current Fossil catalog. It is full of casual, cozy, rustic-chic pieces that will pair easily with jeans and tees. Great everyday wear that will guide you through the day in laid-back style. Here is the link to the online version of the catalog and each piece is available for purchase online at Fossil.com.
My five favorite pieces:
Better start with the shoes, my achilles heel. Seriously love these rustic boots, can't you just see them worn with skinny dark jeans and a cozy, chunky marshmallow-colored sweater curled up by a roaring fire sipping hot chocolate.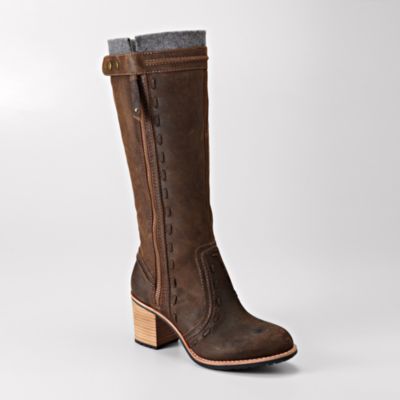 This charcoal flannel bootie will dress up jeans and tees while running errands as well as look great paired with dark tights and a sweater dress. I love the vintage silhouette, turned up toes and stacked wooden heel.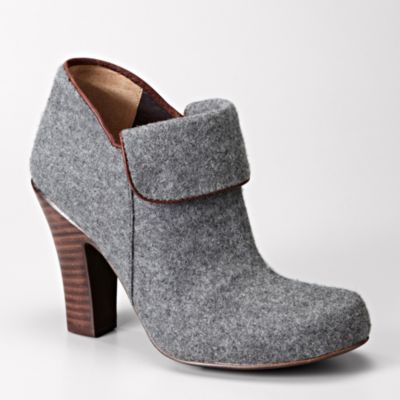 Ahh The Mackenzie… the perfect cozy, grandpa-inspired chunky cable knit cardy. What else is there to say? A true must-have that you will reach for time and time again. Go ahead buy it in all colors, you will thank yourself later.
The Cameron Jacket is an absolute must-have barn piece, a puffer vest/jacket hybrid that comes off looking feminine and fashionable (two words not usually associated with a puffer vest). Layer over a long turtleneck or striped tee with jeans and boots. It will help keep you warm during changing fall weather.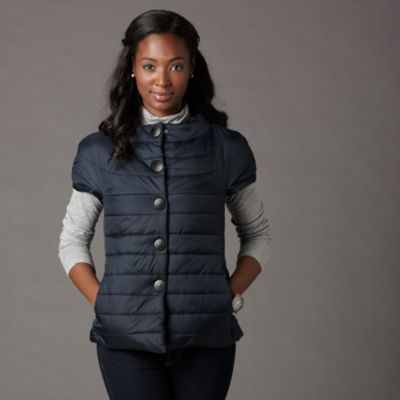 The piece de resistance! Channel Amelia Earhart with this leather and shearling aviation inspired jacket in crisp, snow white. Rich leather and warm shearling is the perfect combination to combat a chilly day.